States Redefine Textbooks to Include Digital Format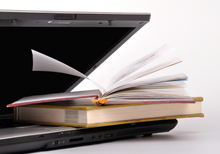 In an effort to increase student engagement with content while decreasing spending on textbooks, adoption state review boards are incorporating digital programs into their strategy. According to 2010 National Textbook Adoption Scorecard and 2011 Outlook, a new report published by Simba Information, the lingering recession is pushing adoption boards to reconsider how they define the textbook in the 21st century.
Expanding the adoption process to include digital programs is a growing trend in the adoption states, first pioneered in West Virginia. Motivated by anticipated cost savings, various adoption boards have purchased more digital materials than in previous years; however, they have not yet begun to replace textbooks.
Quite often, there is confusion in the relationship between print textbooks and their digital counterparts. Some people incorrectly assume that they compete with each other, when in fact, they are the same product offered through a different medium.
Top publishers, such as Pearsonís enVisionMATH and Houghton-Mifflin Harcourtís Journeys, offer a multimedia-formatted digital program that mixes a full digital path with print textbooks. Simba expects publishers to expand digital offerings, especially for reading, in their bids for Texas adoptions next year.
Next year may well be the strongest outlet for digital programs in textbook adoption states we will see.
The lingering recession, which has led to cuts in state education budgets, is pushing adoption boards to redefine the textbook. Notably, Louisiana has defined any medium or material that constitutes a principal source of teaching and learning to be a textbook. Louisiana is also at the forefront of a move to fully adopt digital programs by only approving textbooks that also have an electronic version.
A noteworthy pilot program was launched in Virginia, specifically for a social studies curriculum, where students are using iPads with access to digital resources to create multimedia projects, the report details.
One can assume that what happens in textbook adoption states will impact the entire K-12 market; an encouraging sign for a digital future in schools.
The report, 2010 National Textbook Adoption Scorecard and 2011 Outlook examines results from individual states, disciplines and grade segments, and provides an analysis of trends in electronic products along with key adoption opportunities for 2011.